As some of you many know, my first business was a virtually based business-focused transcription company. One of my most popular posts, and a question I still get asked a lot is related to headsets and recording devices. This is an updated post from my transcription website.
Looking for the best device to record interviews, podcasts, phone calls, or Camtasia videos for your home office? Take a look at these 5 outstanding and affordable options.
Headsets
Plantronics .Audio 995 Wireless Stereo Headset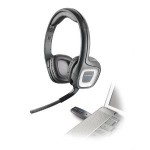 *2015 update: I finally had to buy a new headset. It lasted 6 years, had been dropped in water, carried in my bag multiple times a week, beat to crap, and it still worked. But one of my cats got ahold of a snag in the "leather" cover on the ear pieces and tore it apart. I finally gave in and ordered a new one, identical to the one I'd had all this time. New one is awesome too.
*2014 update: Ok. So I'm hard on electronics and stuff. I take my laptop and headset with me a lot so I'm tossing my stuff in my briefcase all the time. One day I tried to pull the USB dongle for my .995 out of my laptop at the coffee shop and it basically snapped in half. I had to get a pair of pliers to get the metal bit out of the port. A little finagling and I was able to fix the dongle. And my five year old headset still works perfectly fine. (Although I probably will replace it this year.)*
*2013 update: Reason #459 I love my Plantronics Headset: My headset is now 4 years old. This week  our condo had our carpet cleaned. I had picked up some stuff and moved a table into my bathroom to get it off the carpet… including my headset. Somehow, (I'm blaming Pudding) my headset ended up pushed off the table into the cat's water dish for an unknown number of hours, while the carpet dried. Overnight in a bowl of rice, and it's still working fine.
*2012 update: I have now had my Plantronics headset for 3 years. At one point, my USB dongle died. Plantronics replaced with no problems. I know the day Plantronics comes out with a headset this comfortable with a micro-dongle, I'll be fighting for the front of the line.
*Original Post: I love, love, love my 995 Wireless Headset. In fact, I'm on vacation right now and it's on my night table in the hotel room with me. I never travel without it and I use it nearly every day. It has a USB receiver which gives it a better sound quality and connection than a Bluetooth device. When I was transcribing a great deal, I would use it for 8-10 hours a day and it was still comfortable to wear. I even gave one away for our business anniversary in February 2010. I also bought one for my Project Manager.
The audio quality is phenomenal. Many times the quality using my Skype subscription is much better than using my cell phone or even a land line phone. The microphone is sound cancelling and I have had instances where my daughter was talking to me and the person on the other end of the phone couldn't hear her.
The only thing about the Plantronics .Audio 995 Wireless Headset is it's a little bulky because of the additional padding for comfort. I wish Plantronics made one of these headsets that folded for easier travel.
I could talk about this headset all day but for $55, my best advice is order one now.
So if I love the Plantronics headset so much why do I need another device? First the headset can't record two or more people well. Second on occasion you may want to record a live speech or interview. Read on for microphone and handheld recorder suggestions.
Microphones
Blue Microphones Snowball USB Microphone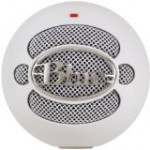 The Blue Snowball mic is also around $50-80 depending on where you get it and if it's on sale. For the price, the audio quality is great. It's best used for recording 2 person interviews, perhaps that you have in your home office or recording speeches. You can set the Snowball on the podium and it will pick up your speech from 2-3 feet away. You could also set it 5-8 feet from the speaker system and get a good quality recording.
If you want to record an in-person panel with several people, check out the Yeti below.
I own the white Snowball. There are several color options as well.

Blue Microphones Yeti USB Microphone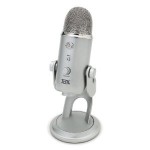 The Blue Yeti microphone was new to the market when I bought it. I had held up very well over 2 years of pretty heavy use. If you want Professional DVD quality, this is the microphone you want. It has a deep sound without some of the hollow sound that you might get with low quality microphones.
This microphone costs around $110. The only drawback to this microphone is it is slightly large. This helps when recording a round table but it may be intrusive or hard to store. However, if you want all of your audio to sound like it was recorded in a professional studio, this is probably the microphone you want.
*2012 Update: Because of the size of this microphone, I usually leave it set up on my desk. More than once I've had a guest ask if it is some kind of Dr. Who thing they don't understand. (I ♥♥ Dr. Who!)
Audio-Technica AT2020 USB Condenser USB Microphone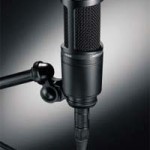 *2012 Update: I used to suggest Audio-Technica's microphones a lot. But after using the Yeti mic, I don't think I would ever go back to Audio-Technica because if you don't use them just right you can get feedback and noise.
Handheld Recorders
Olympus Digital Voice Recorder (VN 6200PC)
*2012 Update: Over the past 4 years, I have lost, found and lost several of these recorders. I now have an Android phone so I dictate to it through Evernote. I used to leave one in my purse and one at my desk. I used it to dictate articles while I am driving and I have used it a number of times to record an impromptu interview when I randomly came across someone I needed to talk to. The sound quality is good enough that I recorded a backup of several seminars. There was a malfunction at one such event with the professional recording equipment and he cut in a few minutes of my recordings that would have been lost. Now I record many things with my phone, but I break this out when I need a more professional quality file.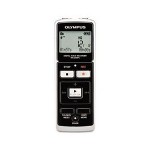 I love this digital recorder. I have the VN 5200PC and the VN 6200PC. The 6200 is the same price as the 5200 I bought in 2009 except it has twice the memory at 1GB. The 6200 will hold over 445 hours of audio. The batteries will literally die before you can fill the memory.
This recorder connects to your computer with a micro USB cable that is included (although any micro USB you have will work.) There is an "upgrade" that has a built in USB, like a Flip Camcorder
, however the sound quality doesn't seem as good. I purchased one and actually returned it and got the 6200 because of the difference in sound quality.
If you know of other recording devices that would be a helpful addition to a home office please let me know so I can test them out and add them to the list.
Thanks
Erica
Disclaimer: Please assume all links on this website are affiliate links. I have tested all of these devices and personally own most of them.
http://empressenergie.wpengine.com/wp-content/uploads/2015/05/ee-logo-for-web-huntter-300x209.png
0
0
Erica
http://empressenergie.wpengine.com/wp-content/uploads/2015/05/ee-logo-for-web-huntter-300x209.png
Erica
2012-12-01 11:32:33
2017-04-18 12:14:59
4 Best Headsets and Microphones for Recording in your Home Office